Arman Shirinyan
Bitcoin is still guided by a common "bubble pattern" known to all traders and investors
One of the most popular models in the world, known as "bubble steps", was developed by Professor John Paul Rodrigue. It is still considered a viable tool for making cycle-based predictions, which is especially useful in the absence of fundamental events occurring in the digital asset industry.
According to the diagram, the cryptocurrency market is currently going through the capitulation phase in desperation, which is the last stage before the "mean reversion" part, where assets or entire industries begin to gradually recover.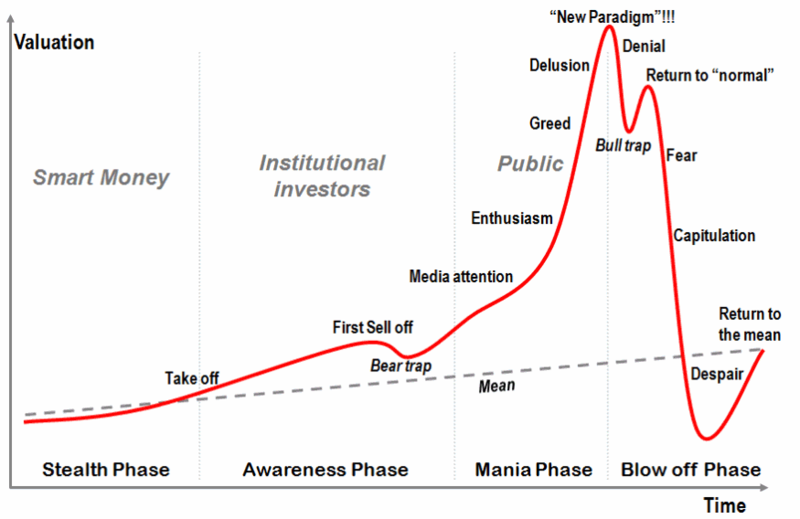 Bitcoin was already guided by the pattern of the 2013-2015 correction period, when it hit $1,300 and created a new ATH. The retracement started in the first months of 2014 and lasted until October 2015.
Sometimes assets don't exactly follow the classic definition of the bubble pattern, but they still go through distinct phases in the market. In keeping with the cyclical nature of bubbles, Bitcoin should rebound in the coming weeks right after the consolidation we see today, or it will take another hit and plunge again.
Bitcoin's position in the market today
The overheating of the entire industry and the macroeconomic structure of the financial markets have caused the sell-off in the cryptocurrency market that we have seen in recent months. Investors are no longer willing to accept the risks associated with investing in digital assets and prefer to choose stable options like bonds which now offer better rates.
The majority of cryptocurrency investors are currently awaiting the release of June CPI data which will affect the upcoming rate hike meeting in July and the direction of US monetary policy.